Tinubu's Presidency: Akeem Adeyemi reveals what late Alaafin told him before he died in the hospital
According to a news that was published by the Punch Newspaper online this morning, it was reported that Hon. Akeem Adeyemi, who happens to be the son of the Late Alaafin of Oyo, Oba Lamidi Olayiwola Adeyemi III, and a member of the Federal House of Representatives, during an interview with Punch correspondent, has revealed what his dad told him about Chief Asiwaju Bola Ahmed Tinubu, before he died.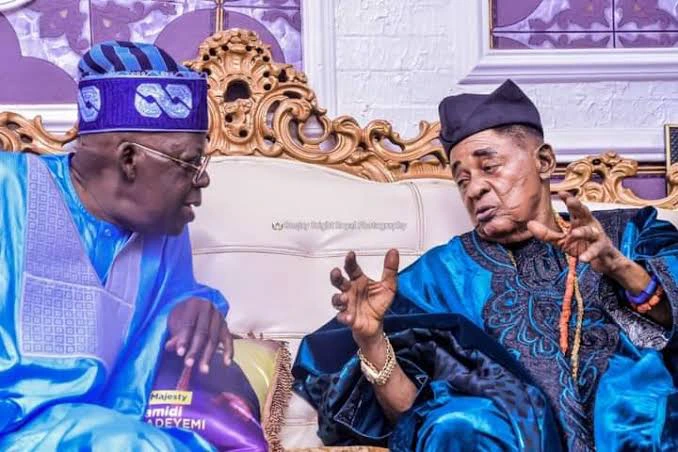 During the interview, Akeem was asked if the Late Alaafin, shared his thoughts with him shortly before he died and while he was responding, he said he did. He said his father was so determined to see a Yoruba man ascending the presidency throne before he died.
He said, "The memory of him i will remember before he died is politics. He was determined, and supportive of seeing another Yoruba man, become the Commander-in-Chief of the Armed Forces of the Federal Republic of Nigeria and he threw his weight and everything into it. You will not believe it but, the last thing he said to me was that, "Skimeh, bawo ni oro oga yin o ?'' He asked me how my boss' (Tinubu) ambition was progressing. He told me that Asiwaju Tinubu must become Nigeria's President and I told him to rest, and that was the last thing we spoke about before he died."
Further talking, Akeem said even the last politician that visited the Late Alaafin before his death was Chief Asiwaju Bola Ahmed Tinubu, and he gave his prayers and blessings to Asiwaju, then he instructed all of them, told the Oyo people, the Yoruba people that, Asiwaju Tinubu should be fully backed.
Akeem said, "Many people will read this interview. Kabiyesi, Oba Lamidi, visited more than 27 Obas in their palaces to talk about Asiwaju's emergence as Nigeria's next President and he met Akirun of blessed memory, he met Awujale, the last Oba that visited Kabiyesi before he died was Oluwo of Iwo, and the discussion was about how Asiwaju Bola Ahmed Tinubu, will become the president of Nigeria."