Remi Tinubu Gives Reasons Why Nigerians Abroad Should Return
First Lady Oluremi Tinubu has appealed to Nigerians in the diaspora to return and make the country a better placeShe requested this while speaking at the Nigeria Economic Growth and Trade Summit in New York, United StatesMrs Tinubu said the administration of President Tinubu hopes to apply reforms in all the major sectors of the Nigerian economy
New York, United States – First Lady of Nigeria, Senator Oluremi Tinubu, has appealed to Nigerians abroad to return home and key into the 'renewed hope' agenda of President Bola Ahmed Tinubu's administration.
As reported by TheCable, the First Lady made this appeal on Monday, September 18, in New York, USA, at the Nigeria Economic Growth and Trade Summit.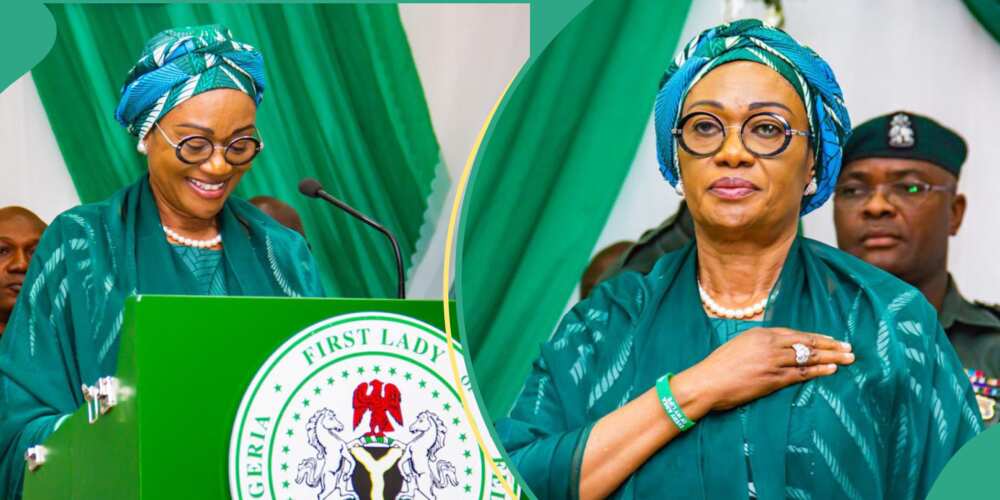 The First Lady said Nigerians' talent and intellect overseas are needed to help revitalise the country. Photo Credit: The Time is NowSource: Twitter
The summit was organised by the Nigeria Governors' Wives Forum and was held at the Nigerian House in New York.
Speaking to attendees at the event, the First Lady said Nigeria needs the exposure of its citizens abroad to help make the 'renewed hope agenda' a reality.
The First Lady said:
"…we must work towards creating conditions and providing basic needs that allow people to thrive by providing access to qualitative education, an enabling environment for job creation, and the development of local industries will create viable economic opportunities.
"The Renewed Hope initiative is an initiative that we just started, aimed at creating a better life for families."
Tinubu's wife promises to place priority on women and youths
The First Lady revealed that the "renewed hope" mantra is multifaceted and would prioritise reforms in various sectors like "agriculture, education, economic empowerment, health and social investment, women and the youth."
She also charged governors' wives to key into their roles and utilise them adequately to create equal opportunities for the female population in Nigeria, as it will help reverse the negative migration trend.
She said:
"Policy reforms that encourage skilled individuals to return home after obtaining educational experience abroad, can help reverse the dream," she said.
"I know Mr. President did not tell me that but I just want to reassure you that it's good to come back home."
Japa Formula: Int'l passport, IELTS, academic CV, man releases 13 tips to get foreign scholarships
Meanwhile, high school students and undergraduates seeking academic scholarships abroad have been given a lifeline.
This lifeline includes 13 crucial tips that must be followed to acquire a scholarship in some of the finest institutions abroad.
A renowned scholarship consultant, Oludayo Sokunbi (Deewon), rolled out 13 invaluable tips on his social media page.
Source: AmbaJay