Prophet Ayodele Says "Massive Defection" Will Hit PDP, LP, Warns Obi, Atiku
Leader of INRI Evangelical Spiritual Church, Primate Elijah Ayodele has said he foresees a massive defection affecting the Labour PartyPrimate Ayodele stated that the defection will also hit Nigeria's main opposition party, the Peoples Democratic Party (PDP)The cleric therefore counselled the main opposition parties to "go and restrategise and do things properly"
FCT, Abuja – The Leader of INRI Evangelical Spiritual Church, Primate Elijah Ayodele, has urged Peter Obi and Atiku Abubakar to "go and put their houses in order".
Obi is the presidential candidate of the Labour Party (LP) while Atiku flies the flag of the Peoples Democratic Party (PDP). Both men are still hopeful of becoming Nigeria's president as they are challenging President Bola Tinubu's victory in court.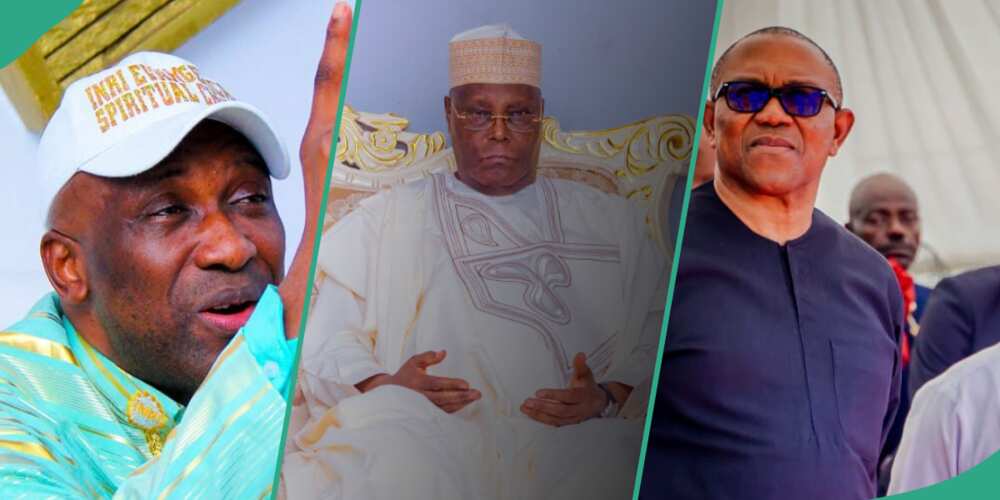 Photo credits: Primate Babatunde Elijah Ayodele, Atiku Abubakar, Mr. Peter ObiSource: Facebook
"I'm seeing massive decamp in PDP, LP"
Primate Ayodele said in a video posted on his official X handle on Tuesday, September 19:
"I want to tell Atiku and Obi that they need to put their house together. Many people would decamp from them as from January, February, March. And I'm seeing massive decamp in PDP and Labour.
"PDP should go and restrategise. Do things properly, adjust and do what is needful. You see people in that Assembly, they would decamp.
"You will just be shocked. You must not be surprised, a governor can also decamp.
"I am just telling you what is ahead of you and what is ahead of time. Don't be surprised that you will be shocked about this."
"Obi achieved something remarkable": Soyinka
In a piece of related news, AmbaJay reported that Nobel Laureate, Professor Wole Soyinka, said Obi achieved something remarkable during the 2023 general election.
Soyinka said Obi and his party did remarkably well to have broken into the two major parties (All Progressives Congress, APC, and PDP).
Tribunal judgement: Atiku vows to seek justice
In another related news, AmbaJay reported that Atiku vowed to seek justice beyond the judgment of the Supreme Court while calling for the defence of democracy in Nigeria.
In a tweet on Monday, September 18, the former vice president accused the ruling APC of harassing and arresting opposition members to turn the country into a one-party system.
Source: AmbaJay