Players who picked up injuries at the ongoing World Cup and are currently ruled out
The first World Cup group stage games have concluded, leaving the team managers to anxiously analyze the harm done to their 26-man rosters. Big-name players like Karim Benzema, Sadio Mane, Christopher Nkunku, and others pulled out of their respective squads due to injuries in the lead-up to the tournament, so there have already been some high-profile casualties. However, a lot of players have been contributing to the lengthening injured list while the event has been going on for days;
1. Lucas Hernandez
Hernandez, a player for Bayern Munich, one of the top teams in the Bundesliga, hobbled off the field after remaining on the grass for a while while holding his knee. His brother Theo Hernandez took his place as France overcame Australia 4-1 in their opening group encounter. His World Cup campaign, however, was deemed to be finished after more testing revealed that he had torn his right knee's anterior cruciate ligament (ACL).
2. Neymar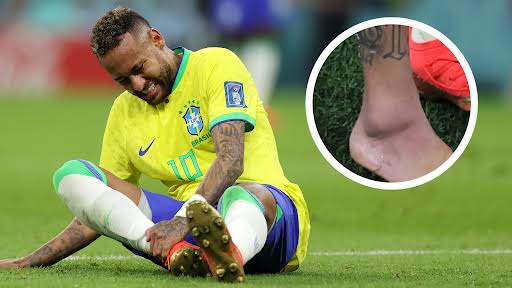 The PSG star left the Serbia game late due to an ankle injury and looked upset on the bench. The forward has experienced ankle issues in the past, but Brazil head coach Tite is confident that Neymar will continue playing in the World Cup and does not believe the problem is serious. Neymar won't participate in either of Brazil's next two group games, but he could make a comeback for the knockout rounds, according to the most recent sources.
3. Yasser Al-Shahrani
After beating Lionel Messi's Argentina 2-1 in their opening match, Saudi Arabia gave the world one of the biggest shocks in World Cup history. Despite this outstanding outcome, Yasser Al-Shahrani suffered a terrible injury when he collided with his goalkeeper Mohammed Al-Owais. Al-Shahrani was carried off and won't participate in the remaining rounds of the competition. Following scans that revealed internal bleeding and a fractured jaw, he underwent emergency surgery.
Harry Maguire, who appeared to have a concussion, and captain Harry Kane, who suffered an ankle injury, were both lost for England against Iran. Both athletes, however, have been deemed fit and could take the field later tonight against the USMNT.