Photos: Check Out Where Lucky Dube's Was Buried and how Grave Looks Like Some Years Later
Reggae musician Ermelo Dube Mpumalanga was South Africa's most successful reggae artist. "Rastas Never Die," his first album, was released in 1984, and he went on to record more than 20 albums in Zulu, English, and Afrikaans.
The internationally acclaimed singer, who recorded 22 albums in English, Zulu, and Afrikaans and won over 20 awards during his 25-year entertainment career, was buried in his garden in a private family ceremony.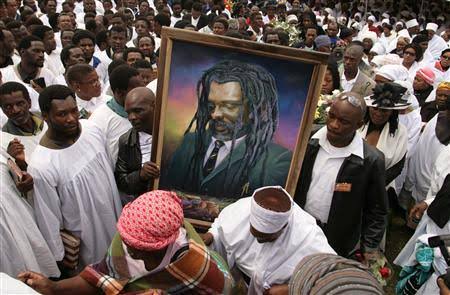 On October 18, 2007, Lucky Dube was killed by robbers in the Johannesburg suburb of Rosettenville, shortly after dropping off two of his seven children at their uncle's house. The attackers were looking for Dube's Chrysler 300C, which he was driving.
Lucky Dube was laid to rest in the Dube Farm Cemetery Newcastle, Amajuba District Municipality, KwaZulu-Natal, one of South Africa's multimillion-dollar cemeteries. His grave has since been maintained, with his name "Dube" painted on it.
Continue Reading>>