"Peter Obi's Movement Is Nothing Close To Core Igbo Values"— Chimaroke Nnamani Alleges.
Senator Chimaroke Nnamani who happens to be a renowned Nigerian politician and social media personality, has recently made a statement about the Presidential candidate of the Labour Party, Mr Peter Obi on his official social media page. Through a tweet which he made on his official Twitter page, Senator Chimaroke Nnamani stated that the Labour Party's Presidential candidate, Peter Obi's movement, wasn't close to core Igbo values based on the mythological trinity of the Igbo culture.
In his words, "As,I reflect on the mythological Trinity of the Igbo Character,1.Cot of Reason (Ako na Uche) 2.Old Fashion Hustle ( Igbambo) 3.Adventure/Casting wide nets (Njepu).Peter Obi's movement is nothing close to core Igbo values. A moving mass of hate,bile and vacuous bunkham."
Many people who saw this were amazed as they reacted vigorously to the post, while others gave their thoughts and opinions on what they saw.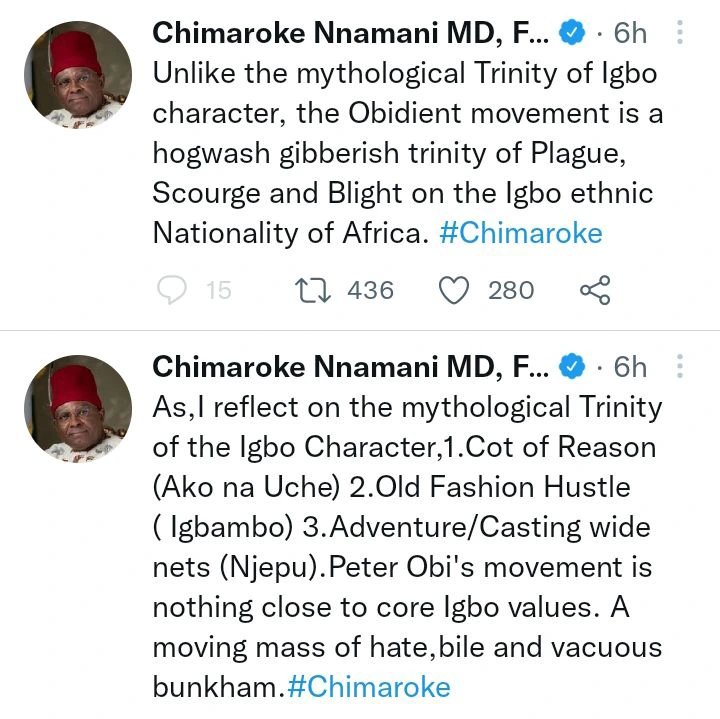 Kindly share with us your thoughts as we will be expecting your feedback on this.