Nigerian Foods That Can Help Prevent Blockage Of Your Blood Vessels
Blockage or occlusion of the blood vessels is mainly caused to deposition of cholesterol in the walls of the blood vessels known as atherosclerotic plaques. Heart disease known as atherosclerosis can be brought on by a buildup of cholesterol, or "bad" cholesterol more specifically. Cholesterol-lowering foods help keep arteries clear. This is why watching what you eat can help keep plaque from accumulating in your arteries.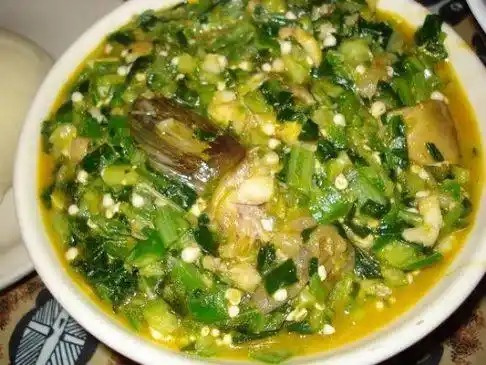 According to WebMD, Transporting oxygenated blood (blood that has been exposed to oxygen) from the heart to the rest of the body and back again is the job of your blood vessels. They allow blood to go to all regions of the body. They serve a similar purpose to pipes, and any obstacle or impediment to the flow of blood will cause the heart to work harder to pump blood to the necessary organs and tissues.
As a result, the heart's ventricles may become thickened and enlarged, a disease called ventricular hypertrophy (especially the left ventricle).
Myocardial infarction and hypoxia affecting other organs are examples of more severe conditions where blood flow is totally halted. The following foods have been shown to be effective in reducing cholesterol buildup in the arterial walls and so lowering the risk of cardiovascular disease.
1. Garden-Egg Soup. This soup's main ingredient is a garden egg. The soluble fiber in garden eggs is beneficial because it aids in reducing the body's low density cholesterol (LDL, or "bad") level. This form of cholesterol contributes to obstruction of blood arteries; reducing its levels in the body can help avoid its accumulation and subsequent blockage.
2. Beans Porridge. The soluble fiber found in beans slows the digestive system, further limiting the body's absorption of cholesterol. In this way, harmful deposits of low density cholesterol are kept out of the vascular walls.
3 Okra Soup.
Like the aforementioned meals, okra is a good source of soluble fiber, which can bring down blood cholesterol and so prevent the narrowing of arteries.
4. Oil Rice. Includes fiber, which has been shown to reduce blood cholesterol levels.
5) Cashews, roasted Just like everyone else (contains soluble fibre which helps lower the level of cholesterol in blood).
6. Spinach soup (know as Ugu soup). This item's fibre content also aids in lowering cholesterol and preventing arterial clogging.