Meet The World Oldest Footballer Who Is Still Playing Professional Football At 56 Years
The world's oldest professional footballer is Kazuyoshi Miura, a Japanese striker who is now playing for Liga Portugal 2 club Oliveirense on loan from J1 League club Yokohama FC. Continue Reading>>>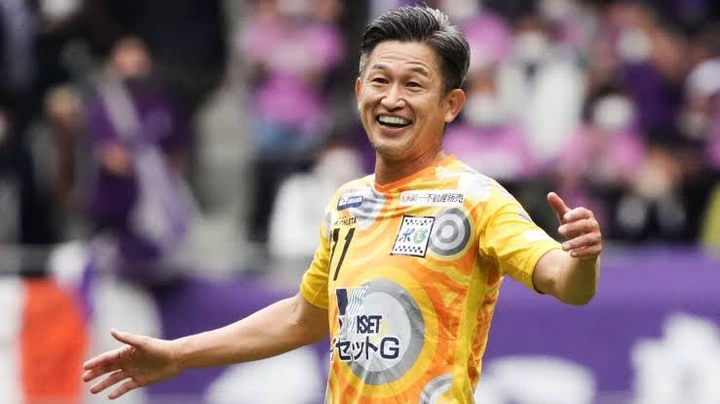 Born on February 26, 1967, Miura is 56 years old as of 2023 and has set the record for the oldest player to score a goal in a professional league match.
Miura's passion for football started at a young age, and he began playing for his school's team. He made his professional debut for Santos FC in Brazil in 1986 and went on to play for several clubs in Japan, Brazil, and Italy, including Genoa, Dinamo Zagreb, and Sydney FC. He is a legend in Japanese football, having won the J-League's Most Valuable Player award twice, and was a member of the national team that participated in the 1998 World Cup. Continue Reading>>>
Miura's longevity in the sport is attributed to his disciplined lifestyle, which includes a healthy diet, regular exercise, and plenty of rest. He is known for his rigorous training regimen and dedication to maintaining his fitness, even at his age. Miura has also credited his love for the game and the support of his fans as motivators for his continued success on the field.
Despite his age, Miura shows no signs of slowing down and has expressed his desire to continue playing for as long as possible. He signed a contract extension with Yokohama FC in 2021, which will keep him with the club until the end of the 2022 season. He is a source of inspiration for young players and proof that age is just a number when it comes to achieving one's goals. Continue Reading>>>
Kazuyoshi Miura is a football icon and a testament to the power of determination and discipline. His remarkable achievement of playing professional football at the age of 56 is an inspiration to all those who dream of pursuing their passions and defying age-related limitations.