Meet The Oldest Footballer Who Is Still Playing Professional Football At 56 Years.
Kazuyoshi Miura, a Japanese striker who is now playing for Liga Portugal 2 team Oliveirense on loan from J1 League club Yokohama FC, is the oldest professional footballer in the world.
Miura, who was born on February 26, 1967, holds the record for the oldest player to score in a professional league game at the age of 56 as of 2023. Continue Reading>>>>
Miura developed a love for football at a young age and started participating in games for his school. In 1986, he made his professional football debut for Santos FC in Brazil. He later played for a number of clubs in Japan, Brazil, and Italy, including Genoa, Dinamo Zagreb, and Sydney FC. He is a legendary figure in Japanese football, having twice been named the J-Most League's Most Valuable Player and having played for Japan in the 1998 World Cup.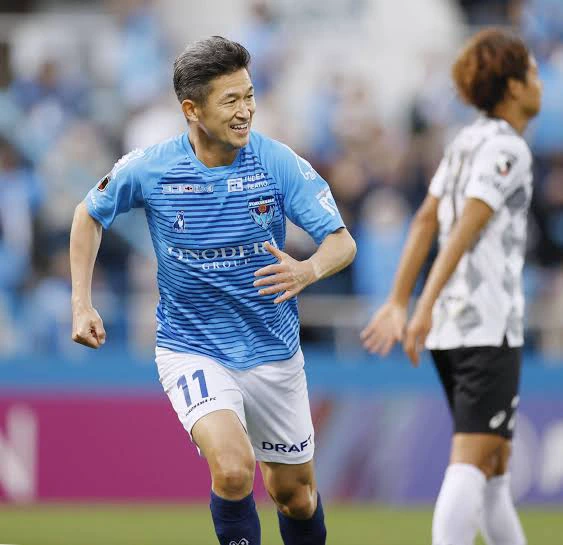 Miura's strict lifestyle, which consists of a nutritious diet, regular training, and lots of rest, is credited with prolonging his career in the sport. Even at his advanced age, he is renowned for his strict training schedule and commitment to staying in shape. In addition, Miura has cited his passion for the game and the encouragement of his followers as sources of inspiration for his on-field performance. Continue Reading>>>>
Miura has stated that he wants to play for as long as possible despite his advanced age and shows no indications of slowing down. He extended his contract with Yokohama FC in 2021, keeping him there through the end of the 2022 campaign. He serves as an example for younger athletes and demonstrates that age is irrelevant when it comes to accomplishing one's objectives.
Football legend Kazuyoshi Miura is a symbol of the strength of willpower and self-control. All individuals who aspire to follow their ambitions and overcome age-related constraints might find inspiration in his incredible accomplishment of playing professional football at the age of 56.