Meet 6 Nigerian Towns Where Snakes Are Worshiped And Treated Like Normal Human Beings
You must have come across someone or read about how much of a taboo it is to kill, not alone eat a python in their home town. Chances are, that "someone" is from either of these towns I am going to highlight in this article.
1) Nembe in Bayelsa State: Though the majority of the people of Nembe are Christians, you can not separate them for the python worship. The people of Nembe Kingdom in Bayelsa State have long protected and worshiped pythons as a deity. This relationship between the python and the Nembe people is believed to be deeply rooted in their customary and traditional belief that the python has played a key role in the unification of the Nembe kingdom.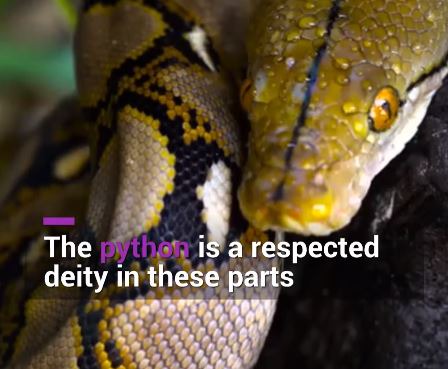 Reports have shown that Nembe, which is surrounded by mangrove forest, is commonplace to find the python in their different sizes.
According to some indigenes of Nembe Kingdom who spoke to researchers, attempts to kill the python would incur the wrath of not just the gods (Ogidida), but also the people in the community. "Python is so sacred to us that a Nembe man cannot witness its killing by people from other tribes", one James said, adding, "While the Python is being killed by outsiders in another land, a Nembe man will take to his heels to avoid witnessing it."
Another resident of Nembe, also added that "Outlawing the killing of the python was an act of reverence for the god that has contributed immensely to the growth of the area".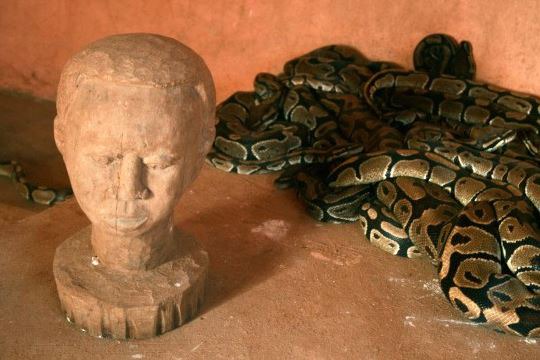 Nembe people see the python as a manifestation of a spirit being. When a python is seen in a home or on the road, it is not killed but simply removed through a traditional means. A dead python is mourned and buried respectfully like a human being if found dead in Nembe.
2) Enugwu Ukwu in Anambra State: All over Enugwu Ukwu town, in Njikoka Local Government Area of Anambra State and beyond, pythons are treated like beautiful brides. It is a taboo to hurt or killed python in Enugwu Ukwu town. The consequences of hurting or killing the reptile are dire.
According to Pa Francis Anisiobi, from Urunnebo village, who spoke with Daily Sun on the capacity of a Chief Priest of the Ngene deity, which owns the pythons: "Our forefathers came into the world and saw that pythons were not killed in this area because the pythons belonged to the shrine. And whoever killed it would be enveloped by problems. Whoever kills a python in Umunri as a whole will be required to do certain things to free himself from the disastrous consequences of the act".
Explaining further, the Chief Priest added: "First, some native doctors will be consulted for divination, and he will be told what to do. He will organize burial rites for the python and bury it at Ajoagwa Arusi. The burial rites include bringing goat and chicken that will be taken to the shrine. After that, if the person is having problems, they will stop."
3) Idemili in Anambra State: In Idemili local government area of Anambra state, the python is loved, respected and worshipped. The snake, popularly called in Igboland as Eke, lives in harmony with the members of these towns. The python is a respected deity in these parts of Anambra State, and there are shrines dedicated to the worship of Eke. It is a taboo to kill a python here, as it has grave consequences.
As odd as it may sound to people who aren't familiar with any other religion apart from Christianity or Islam, there are communities in Nigeria that place snakes as their gods
4) Mgbidi in Imo State: Indigenes of Mgbidi of Oru West Local Government of Imo State regards the python as their god. All the eleven clans that made up of Mgbidi, including Imeoha, Eziali, Umuekwe, Okwudor , Umuorji, Umuokpara, Umuehi , Umuabiahu, Uziaumu , Ihitte and Ugbele worship python.
According to one of the priests, who identified himself as Ngozi Obiwuru, he boasted that no amount of civilization can change that part of their culture and tradition; worshiping of python. In his words, "Several churches have come to deliver this community but have failed to stop the worship of snakes. I used to be a Christian before my father whom I inherited this job from died. I had to relocate to the village and learn the traditions of our people".
He added that if for whatever reason or circumstances, you kill a python, you either appease the gods or face the consequences.
"If you mistakenly kill a snake, you will simply appease the gods or face the consequences. There was a particular case, the man called all kinds of pastors to pray for his family, at the end of the day he came to me and performed the sacrifice. It dawned on him that it was not a joke when his three kids died mysteriously.
"Several churches have been advised to stay away from that part of our religion. We welcome the fact that they have brought a lot of development in our area, but the fact remains that no one can force us to abandon what we believe in."
In order to appease the gods, Obiwuru said: "It is very simple. The individual will buy a white coffin, white cock, goat and will come to the shrine for sacrifice. The snake is buried with the coffin. These snakes never bite anyone; when it visits your family at night, it is a sign of blessing to have been so chosen.  It is considered an honour to have a god in your home, just as the Christians rejoice when they spot an angel in their homes.
5) Ujevwu in Delta state: It is also a taboo to kill a python in Ujevwe community in Udu Local Government Area of Delta State. Reports has it that this snake helped natives Ujevwu community escape during an inter-tribal wars. The python did this by going after the people and erasing their footprints which prevented their enemies from tracing where they went. The descendants of these people show their gratitude by refusing to kill or eat the python even till date.
As such, it is forbidden to kill pythons. On the rare occasion when a python is accidentally killed, the person responsible faces very serious penalties including human-like funeral rites for the dead snake.
6) Machina In Yobe State: Snakes of unknown species are very revered and worshipped in Machina, Yobe state. The snake is believed to be part of the royal family so it is forbidden to kill this type of snake. The snakes come out to join the royals whenever they are celebrating or when they are mourning. They have venom but do not harm people when they come out.