Lagos State Without Other Nigerian Investments Is A Minus
Lagos State Without Other Nigerian Investments Is A Minus: Amid the ongoing uproar that has greeted the just concluded governorship election conducted by the Independent National Electoral Commission (INEC) in Lagos state, a professor of international relations, Tunde Esan has come out to disclose that he has studied Lagos state's history for a long time, and it's very accommodating.
While speaking during a live interview on Arise TV a few hours ago, Tunde Esan said that Lagos state without other people's investment is a minus.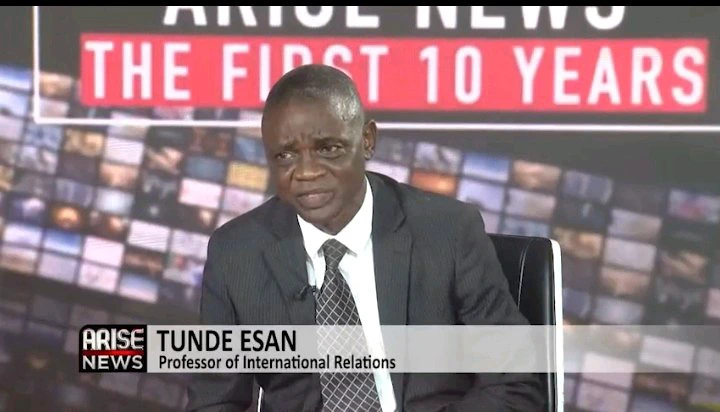 Quoting the exact statement released by Tunde Esan, he said, "In 1861, Lagos state became a protectorate and in 1914, Lagos became the federal capital of Nigeria, before it was moved to Abuja. About 10 generations of Lagosians have left under a multi ethnic environment".
Speaking further, he stated that the concept of moving Lagos as the federal capital Territory started in 1975 when Murtala Muhammad came into power. It was moved to Abuja. He also said that people know Lagos state and that's why it's an accommodating state where people reside.
In addition, Tunde Esan further said that Nigerians need to be careful with what they convey and do. This is because Lagos state without other Nigerian investments is a minus. He claimed that Nigerians don't know how to universalise their culture and it's a problem. He also said that restoring ethnic rhetoric to induce rivalry in Lagos state is an aberration of national unity.
Click here to watch the video clip.
Over to my esteemed readers, I know you will have something to say about Tunder Esan's statement? Please make an effort to share and write down your thoughts in the comment section below.
Resorting to the use of ethnic rhetoric to induce rivalry in Lagos is an aberration of national unity. Lagos without investments from other ethnic tribes is a big minus as well as without investments from International communities-Tunde Esan, Professor of International Relations pic.twitter.com/iNmJOQ3VK0

— ARISE NEWS (@ARISEtv) March 28, 2023