"Just Licking the Flavour": Dad screams in video as he catches little daughter with puppy on a sofa
A man has taken to social media to showcase what he witnessed his daughter doing with their puppy
He returned from the bathroom to find her on the living room sofa with the domestic animal in a teacup
What he caught the little girl innocently doing with the puppy made him shout in the funny clip
A man was shocked as he returned from the bathroom to find his little daughter and their puppy on the sofa.
What stunned him and forced a loud shout was that he found the girl feeding the pet chips while it stayed in a teacup.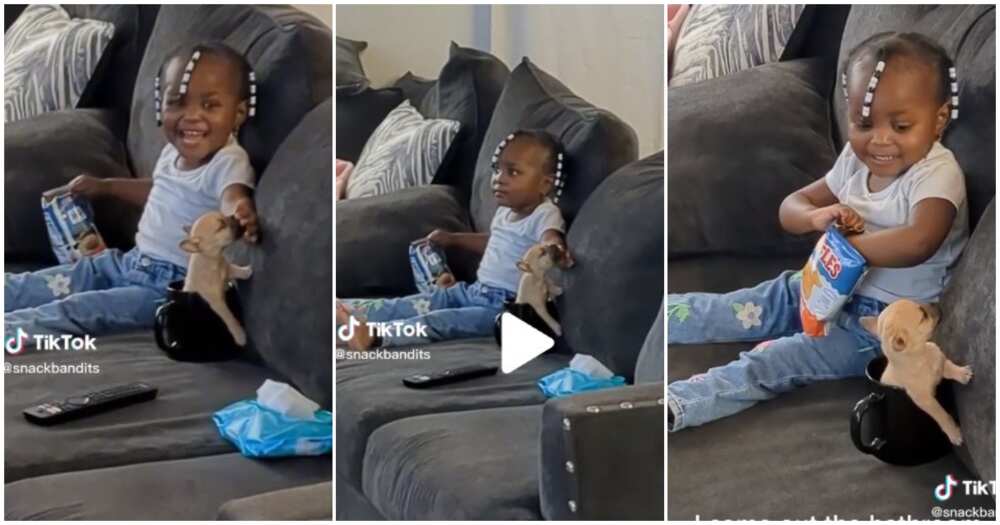 In a viral TikTok clip, he questioned the kid over her action and told her to stop it, but she innocently kept on.
"She put the puppy in a teacup and gave him chips," he captioned the funny video.
The little girl just laughed at everything her father was saying as he yelled at her. Mixed reactions have trailed the clip.
Watch the video below:
Social media reactions
soniachamblin said:
"The teacup pup was hungry. Love me some Dylan, more Dylan."
Delia Enriquez said:
"I'm laughing so much that I'm crying. This video was so wholesome."
MeEhKnow said:
"She was like "don't tell him what he can't do….let me show you that he CAN do it". Adorable. The little smile."
Chucky said:
"It's a "tea cup" chihuahua. That or she thought that's what a pup cup really was."
Stephanie Robinson J said:
"He's going to be her best friend."
Rie Rie said:
"To be fair, he wasn't eating them, just licking the flavor of."
Niyah said:
"They're called teacup puppies for a reason."
Dog defends kid against her dad's punishment
In a funny clip by @officialkammymccoullum, the man held a hanger and chased the kid. She ran behind her dog and left the pet to defend her.
Immediately the dog sensed the kid needed help, it started barking angrily to keep the father away. He could not come close.
Captioning the video, the man said:
"Parents can't even play with her around him he takes her so seriously. I'm just playing relax buddy lol."