"It's Not Easy": An emotional video of a twin sister 'releasing' her twin brother for marriage has caught the attention of netizens
An emotional video of a twin sister 'releasing' her twin brother for marriage has caught the attention of netizens
The Yoruba wedding ceremony had the session where the twin girl permits her brother to get married
In the trending video, the twin sister refused and fused about for a while before finally 'releasing' her twin brother
Africans are known to have peculiar customs and traditions, and these traditions vary across the various tribes. This also applies to twins.
The Yoruba people in Nigeria have a customary ritual for twins when one of them wants to get married.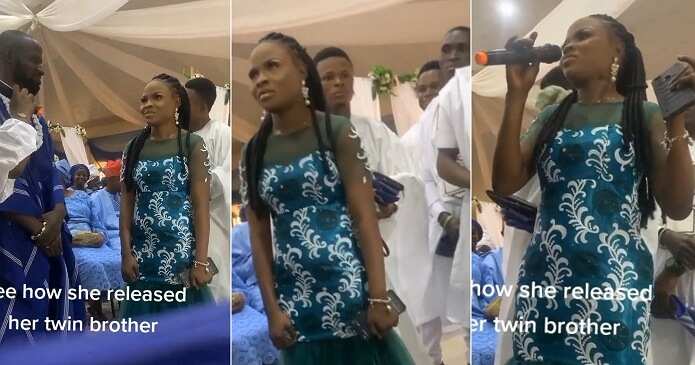 In a viral video, we see that ritual on display. The male twin was getting married and his twin sister was called out by the moderator to 'release' her brother.
This 'release' was to ensure that he got married without any tethering to the sister as he was being joined to another woman.
The twin sister at first squeezed her face and refused to release her twin brother. However, she was appeased by a friend and guests who obliged her to 'release' her brother.
She finally repeated after the moderator. She started with her name and subsequently said that she has released her brother (calling his full name and her pet names for him) to go and get married.
"I had to call her sister Kenny to calm her down. She did not want to release him at first but she finally released him", the caption read.
Social media reactions
@tywande commented:
"My twin brother cried ehn, we had to beg him before he released me."
@aramide2120 wrote:
"I really wish my twin and I get married on the same day but that gal has refused to be date any guy, she said I should go when I'm ready."
@olu_seikemi wrote:
"I go fess collect money before I agree."
@nus_roh commented:
"Omorh if dem no bribe me I no dey do oh."
@teekahdynasty wrote:
"Seriously it's not easy, my twin is saying my fiance must bribe him b4 he release me."
@abiolahassano said:
"Please tell the wife to always go and play with the twin sister, am talking from experience."
@oliviadaniels119 said:
"You go bribe me o."
@adefunmilayo88 said:
"Awwwwwnn the bride has all my name."
@deelight0125 wrote:
"It has meaning ooooo honestly."
@khateemah wrote:
"Some release their twin with heavy knock on the groom's head if they are ladies."
@kbright25 commented:
"You supposed collect money for her. that's how they did my husband own."
@pweetyfoyin wrote:
"The way she was shaking at first."
@toyrasyinky wrote:
"You have done the best thing ma."
@quinhana wrote:
"What if she say no?"
@toxic_gemini02 wrote:
"If dem no give me money, you go no where."
@cyntheticstitches said:
"Me and my twin sis no even send ourselves. release kee ,she no send me ,na girls girl shaa."
@goodie8268 wrote:
"I just dey laugh like didirin. The lady is beautiful and also have a beautiful smile."
@onlyonemosebolatan4 commented:
"Awwnnn."
@user2613326615731 commented:
"My mother cried, cried and cried, fought hard before she could manage to release her twin sister for marriage, as per history, can be heart breaking."
Watch the video below: