"Is This My Wife?" Groom in Tears as His Woman Enters Wedding Hall, 3 Times Men Cried on Wedding Day
It was an emotional day for these grooms who couldn't control their tears at the wedding venue
A handsomely dressed groom was standing patiently at the altar with very nervous and shaky hands when his bride walked in.
Another groom caused a scene on his wedding day as he cried so much in the presence of his guests and friends.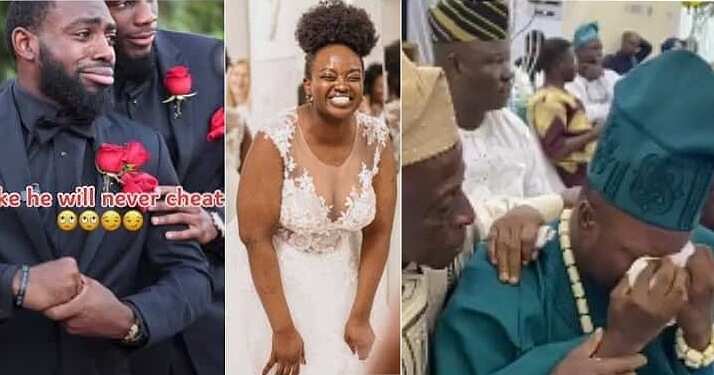 When people asked what happened, he revealed that he remembered his late parents who couldn't attend his wedding.
1. Nigerian groom cries uncontrollably on wedding day
A Nigerian man surprised many on his wedding day as he kept crying (for joy). He would not stop even when his friends tried consoling him.
Whenever he tried to keep the tears back, they would come cascading down his cheeks again. Many Nigerians have since reacted to the video posted on Instagram by @Instablog9ja.
Many wondered why he was crying so much if he may still in the future marry more than one wife. Some people believed that it was all for the show, and the display does not say a man would still not cheat.
2. Trolls slam groom who broke down in tears as bride arrived
In recent times, videos of grooms shedding tears after sighting their brides at the wedding venue have been shared online. In one of the videos, the groom was so emotional about his nuptials and wasn't shy to shed a few tears.
He stood before the altar dressed in a dark suit and jacket with red rose flowers. His groomsmen dressed just like he did.
In the cute clip, the best man comforted the emotional groom who was rubbing his hands nervously and already crying. However, trolls dragged him stating that he will still cheat.
3. Groom cries bitterly at his wedding venue as he remembers late parents
A heartbroken Nigerian groom remembered his late parents on his wedding day and broke down in tears.
During the occasion which was meant to be a joyous one, he sat on a chair and began to weep bitterly.
In a touching video shared on Instagram by @instablog9ja, he was spotted covering his eyes with his hands while weeping bitterly.
Bride breaks down in tears on wedding day