Igbos Shouldn't Say Lagos Is A No Man's Land Just Because You're Doing Business There —Dr. Chimaroke Nnamani
Dr. Chimaroke Nnamani, a former governor of Enugu State and a lawmaker for Enugu East, has contributed his opinion to the discussion on Lagos State being a no-man's land.
He expressed his opinion in a tweet, contending that illiterate Igbo youths were mistaken to label Lagos as a no-land man's only because they were conducting business there.
He also expressed dismay that none of the Igbo leaders who were meant to speak up were familiar with the situation.
In his words, "Igbo leaders observe as defenseless and uneducated Igbo youth encourage other Nigerians. Hostile to the communities they inhabit. Politically displacing the Gwari, the landowners of the FCT, while conducting business on their territory. Doing business in Lagos and referring to it as "No man's land."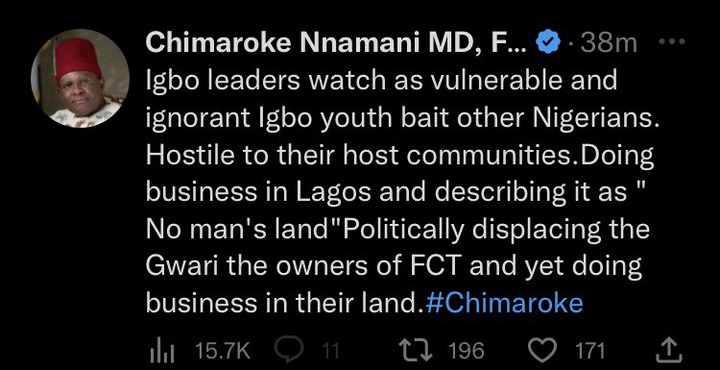 Remember that Nnamani, who was running for re-election to the senate, lost to Kelvin Chukwu of the Labour Party, who received 69,136 votes.