How You Can Use Garlic To Lower Your Blood Pressure
Garlic has been used for centuries for its medicinal properties, and one of its well-known benefits is its ability to lower blood pressure.According to Healthline, high blood pressure, also known as hypertension, is a serious condition that can lead to a variety of health problems, including heart disease, stroke, and kidney damage. Fortunately, garlic is an affordable and easily accessible remedy that can help reduce blood pressure naturally. In this article, we will explore the benefits of garlic for lowering blood pressure and how to use it effectively.
How Does Garlic Lower Blood Pressure?
Garlic contains a compound called allicin, which has been shown to have numerous health benefits, including the ability to lower blood pressure. Allicin is formed when garlic is chopped, crushed, or chewed, and it is responsible for the distinct odor and taste of garlic. When consumed, allicin relaxes the blood vessels, allowing blood to flow more freely and reducing the pressure on the walls of the blood vessels. This effect can help lower blood pressure and improve overall cardiovascular health.
How to Use Garlic to Lower Blood Pressure
Garlic can be consumed in a variety of ways to help lower blood pressure. Here are some of the most effective ways to use garlic:
Raw Garlic
Raw garlic is the most potent way to consume garlic for its blood pressure-lowering effects. To get the most benefit, crush or chop a clove of garlic and let it sit for a few minutes to allow the allicin to form. Then, swallow the garlic with a glass of water. It's important to note that raw garlic can cause digestive discomfort, so start with a small amount and gradually increase as your tolerance improves.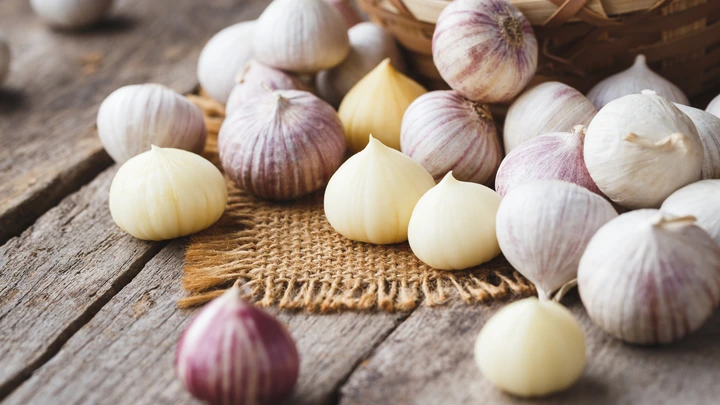 Garlic Supplements
Garlic supplements are an easy and convenient way to get the benefits of garlic without the strong taste and odor. Look for a supplement that contains standardized amounts of allicin, and follow the recommended dosage on the label. It's best to speak with a healthcare provider before starting any new supplement regimen.
Garlic Oil
Garlic oil is another option for those who don't like the taste of raw garlic. Garlic oil capsules can be found at health food stores and are an easy way to get the benefits of garlic without the odor. It's important to choose a reputable brand and follow the recommended dosage on the label.
Garlic in Food
Garlic can be added to a variety of foods to add flavor and provide health benefits. Roasted garlic is a delicious addition to vegetables or meat, and raw garlic can be added to salad dressings or pasta sauces. However, it's important to note that cooking garlic can reduce its health benefits, so try to consume some raw garlic as well.
Precautions and Side Effects
While garlic is generally safe for most people, it can interact with certain medications, including blood-thinning medications like warfarin. It's important to speak with a healthcare provider before adding garlic to your diet, especially if you are taking any medications or have a medical condition.
Garlic can also cause side effects like bad breath, body odor, and digestive discomfort. These side effects can be minimized by starting with a small amount of garlic and gradually increasing as your tolerance improves.
Conclusion
Garlic is a powerful natural remedy that can help lower blood pressure and improve overall cardiovascular health. Whether consumed raw, in supplement form, or in food, garlic is a safe and effective way to reduce blood pressure. However, it's important to speak with a healthcare provider before adding garlic to your diet, especially if you are taking any medications or have a medical condition. With its numerous health benefits, garlic is a simple and affordable way to support your heart health and reduce your risk of hypertension-related health problems