How To Use Purple Yam (Ube) To Remove Excess Sugar From The Body
How To Use Purple Yam (Ube) To Remove Excess Sugar From The Body: Purple yam can help diabetics control their blood sugar levels. Despite being cheap and commonly available in Nigeria, many people don't seem to know what to do with purple yam. This page was written to answer all the questions that have been asked.
Purple yams are simply another variety of yams. You won't feel like you've switched to an entirely new food. The only real differences between this and regular white yam are in the carbohydrate and other nutrient content. As a result, purple Maya can be prepared and enjoyed in the same manner as any other kind. However, there are a few caveats that should be considered before trying to reap the antidiabetic benefits of purple yam.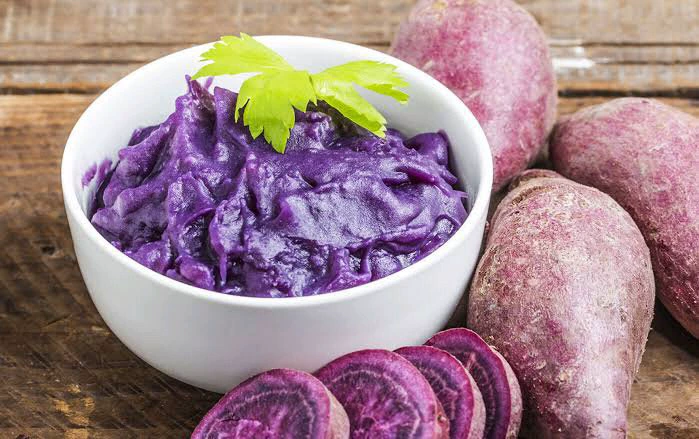 Blood sugar levels can be lowered first because to the high antioxidant content of foods and drinks that are purple. These antioxidants improve the body's sensitivity to insulin, a hormone that aids in maintaining steady blood sugar levels. When this happens, blood sugar levels often drop significantly.
You shouldn't cook purple yam past a specific temperature if you want to keep its antioxidant benefits intact. Therefore, it is unable to bring about a reduction in blood sugar levels. The following preparation methods for purple yam will preserve its medicinal benefits.
Instead of roasting the purple yam, eat it after it has been boiled.
Purple yams are best when boiled, as this way of cooking keeps more of the food's healthy nutrients intact. Purple yam is a staple food in Nigeria and is typically served boiled with either red oil or without any seasoning at all. Roasting the purple yam will defeat the purpose of reducing blood sugar.
Second, purple yam portage is easy to make.
Just more way to appreciate your purple yam. Use sugar-reducing garnishes such fragrance leaves, moringa leaves, waterleaf, etc., to further reduce the sugar content of the dish.