"How Do You Get Down?" Fearless Lady Climbs the Back of Friendly Elephant, Rides it Like Horse in TikTok Video
he relationship between a young lady and a friendly elephant has stunned many people on TikTok
In a TikTok video, the lady was seen with two elephants, and she was able to mount and ride one like a horse
The elephant helped the lady to get on its back and this made many believe that they were friends
A video shows the moment a fearless lady climbed the back of an elephant and rode it like a horse.
In the video shared on the TikTok handle of @chalidahomniem, the lady was seen in the midst of two giant elephants.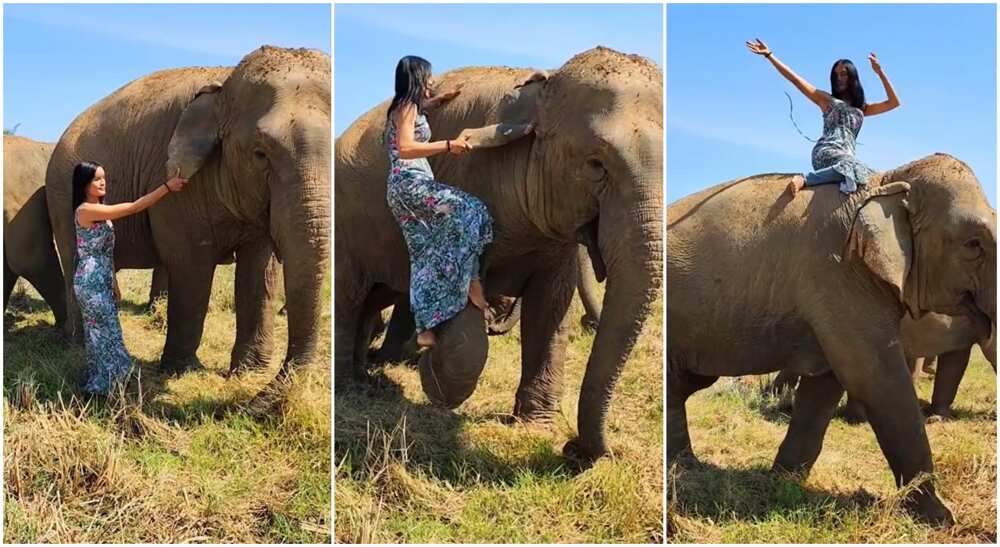 From their interaction with each other, TikTok users have concluded that the lady and the elephant are friends.
Video of a lady riding an elephant
In the short clip, she was seen touching the ear and using one of her legs to tap the big animal. In response, the elephant bent one of its legs for the lady to stand on, assisting her to climb its back.
When she got on its back, she spread her hands in the air as they rode away.
The video has sparked reactions among TikTok users, who have said the animal is very friendly.
Watch the video below:
Reactions from TikTok users
@user8242385816395 said:
"I love that."
@lawangarba687 commented:
"This can never be me."
@abdu44 said:
"More than luck."
@Finbarr Gini Sarki commented:
"Just imagine a communication of sign between a human and an animal."
@Green fingers said:
"How do you get down."
@HAMARACK commented:
"Wow I really like that."