Kieran Tierney could leave Arsenal in the summer. Mikel Arteta: "I don't know, I'm not thinking about it. I'm thinking about what's best for the team. Players have the right to play minutes, which they all deserve, we're going to try to do that in the next games."
Arsenal don't want to distract any of their players in crucial moment of the season. I'm told there's a chance Tierney will leave in the summer but this is not 100% approved yet on the club side, they want all the team to be 100% focused on the final games of the season to win trophies.
"Step by step", Gabriel Jesus posts on his social media accounts as he's now working with the ball preparing his return:
Mikel Arteta confirms no problems or issues between Gabriel Magalhaes and William Saliba: "Gabriel and Willy Saliba are a happy marriage, as you can see they are very passionate and also very demanding. Everything is fine."
Negotiations continue between Arsenal and William Saliba over a new contract. It is the next priority for the club after Bukayo Saka, whose deal is almost done. Saliba wants to stay – talks are ongoing on details/salary/structure of the deal, deal not at final stages yet.
Vitor Roque: "I feel ready to make the move to Barcelona, of course. Would be amazing to play with Lewandowski. Barcelona is a dream. If I end up there, it will be a great joy for my family and me. It'd be a fantastic move."
I'm aware there's been speculation linking Mateo Kovacic as a target for Manchester City, so I thought I'd give my understanding of the situation: Kovacic's future is open, he's one of the players who could be on the move but I understand that no final decision has been made yet on his contract situation. It will be discussed later this year; Manchester City remain busy in Jude Bellingham race with Liverpool and Real Madrid, as of now.
I'm not convinced by the Raheem Sterling rumours I've seen doing the rounds. I think we will have ten links per day for Chelsea players as they have many players! But it's March and nothing is concrete at this stage, all sources don't confirm concrete interest as of now. It's also worth remembering that Arsenal signed Leandro Trossard in January and will also extend Bukayo Saka's contract, I'm also sure Sterling wants to fight for his Chelsea place. This is something for the summer, not for now.
Chelsea were also keen on signing Gabriele Biancheri – the talented youngster who has just been snapped up to join Manchester United's Academy. It's not surprising to see there was other interest, but United wanted to anticipate other clubs and moved fast and early.
N'Golo Kante's position has been crucial to get new deal close: he had options on free transfer but he loves the club and wanted to stay in London. The agreement is very close, not sealed yet, with just some details missing on length of the contract, but it's really advanced.
Andrey Santos was in attendance for Vasco da Gama game yesterday night — loan deal has been agreed on Monday and it will be completed soon with Chelsea. Andrey will return to Chelsea in July for 2023/24 season. He will start training with Vasco later this week.
Chelsea statement on Thiago Silva has confirmed that "he has sustained a knee injury, underwent further assessment and scan confirmed damage to Thiago's knee ligaments". He will now be out for almost 5-6 weeks, he'll try to return as soon as possible.
Chelsea remain optimistic on Mason Mount's future and the ownership has always made keeping him a priority, says Ben Jacobs.
Hull City are closing in on agreement over the permanent signing of Xavier Simons from Chelsea. The final details are being ironed out in order to get it sealed. Negotiations are at advanced stages between the parties, with the player already approving the move.
We've finally seen Paul Pogba make his first appearance in his second spell as a Juventus player. He was on the pitch in the second half of the Turin Derby vs Torino. It's 315 days after his last appearance – in that case with Manchester United.
Jurgen Klopp on Liverpool's future: "We have a future together, it is our decision how we deal with things. We have values, we have principles. We don't want to be different as a club. We ARE different as a club. We have a future together."
Virgil van Dijk confirms Jurgen Klopp will stay at Liverpool: "Of course, Klopp is the boss and that doesn't change. I'm very happy with him, he's very happy at Liverpool. I hope better times are coming again, that's what we are working for."
Mohamed Salah's agent Ramy Abbas answers on rumours that he'd would leave Liverpool if they didn't qualify for the UCL: "This is nonsense. This was never discussed or thought about. Not qualifying to Champions League hasn't even crossed our minds."
Liverpool are monitoring Josko Gvardiol ahead of a potential summer transfer, and he favours a move to the Premier League, says Ben Jacobs.
Despite links with Mateo Kovacic, Manchester City are busy on the Jude Bellingham deal, where they're up against Liverpool and Real Madrid.
Manchester City are one of the clubs eyeing up £100m-rated Napoli star Khvicha Kvaratskhelia ahead of the summer, says Ben Jacobs.
Despite rumours, I'm not aware of direct contacts between Mason Mount and Manchester United at the moment; another situation that will be clarified in May/June, in that moment Chelsea will make a decision on his contract. I think Mount is a great idea for every club in the world, I really like him as a player.
Gabriele Biancheri is considered a very talented boy and Manchester United feel their new signing has an excellent potential for the future. They really wanted him, it was an important move for the Academy. Chelsea were also keen on signing him, but United wanted to anticipate the other clubs by reaching an agreement in February.
Uruguayan winger Facundo Torres will extend his contract with MLS side Orlando City, agreement in place until 2027 — here Torres with agents Egardo Lasalvia & Gustavo Santorini. My understanding is that there will be a release clause worth $30m in the new contract.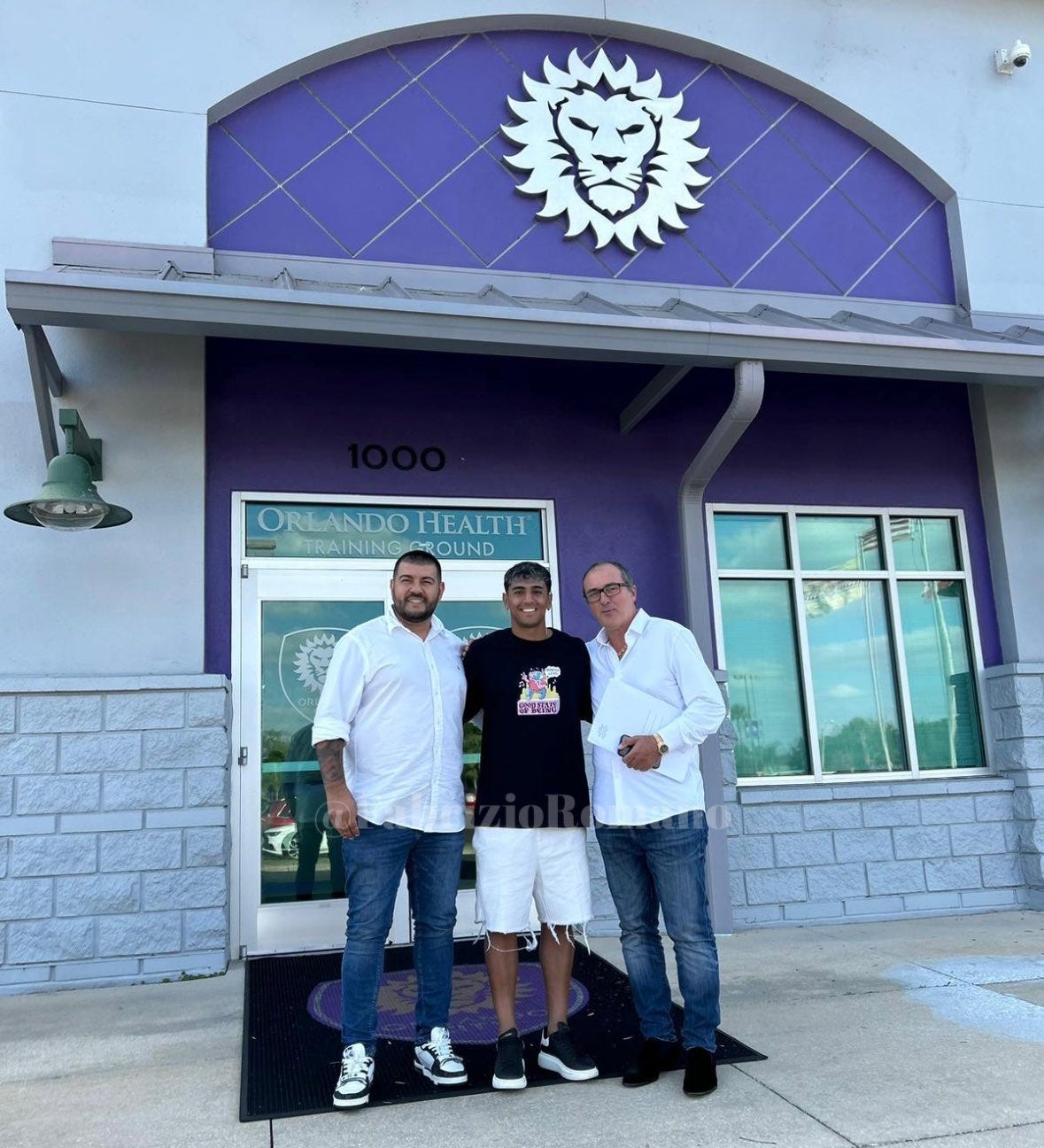 World Soccer Agency announce they've decided to part ways with West Ham striker Gianluca Scamacca. There were problems between Scamacca and his agency so they decided to part ways and Scamacca will sign soon with another agency. This has nothing to do with a summer transfer, as of now; it was just an internal problem between Scamacca and the agency.