Adamawa: Court Responds to Ex-parte Motion Filed by APC Guber Candidate, Aisha Binani
According to Daily Post – A Federal High Court in Abuja on Tuesday rejected an application by the All Progressives Congress (APC) governorship candidate in Adamawa State, Aisha Binani, seeking a special injunction to stop further action on the ongoing governorship election in the state. CONTINUE READING>>>
Binani, through her lawyers, had on Monday approached the court for an injunction restraining the Independent National Electoral Commission (INEC) from taking further action in relation to the declaration as governorship candidate by Hudu Yunus Ali, the ousted Permanent Electoral Commissioner in the state.
However, the court did not entertain Senator Binani's ex parte application and directed Senator Binani's legal team to ascertain whether it had jurisdiction to entertain the application.

The presiding judge, Justice Inyang Ekuo, adjourned the case to 26 April, giving APC's nominated lawyers three days to file their application. CONTINUE READING>>>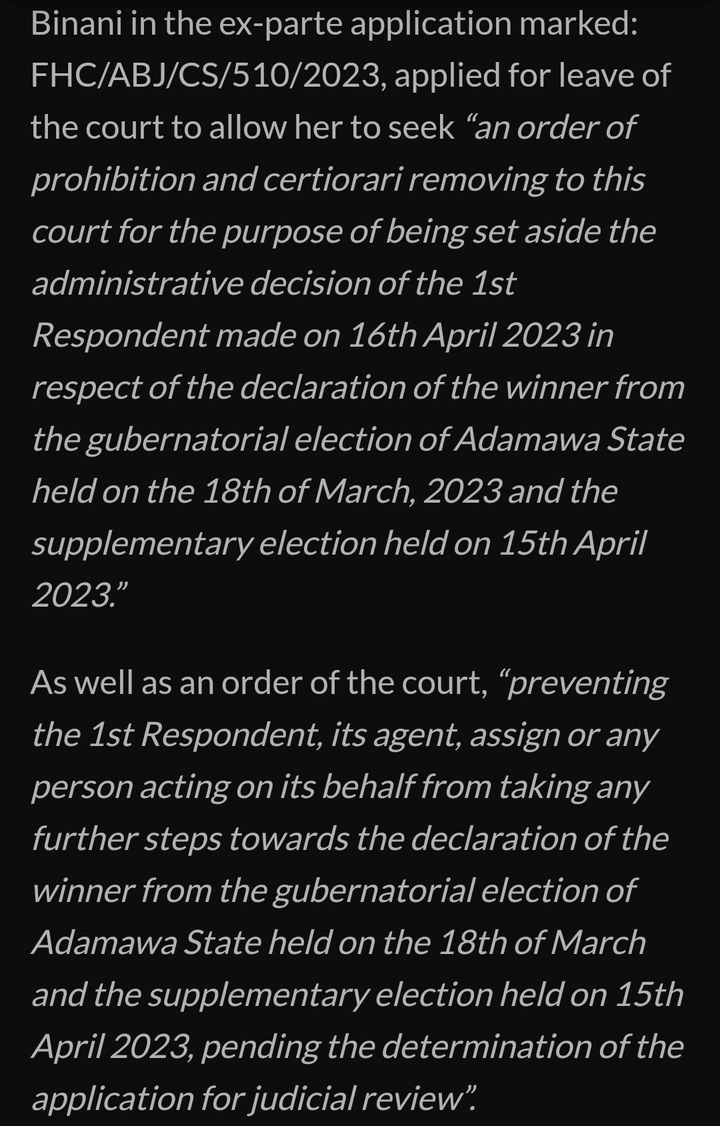 In the suit brought by a group of lawyers led by Hussain Zajariyau (SAN), the APC was named as the second plaintiff, while the Independent National Electoral Commission (INEC), the Peoples Democratic Party (PDP) and its candidate or current state governor, Ahmadu Fintiri, were named as first to third defendants.