2023 Polls: "Peter Obi Won on Social Media but Lost to Tinubu", Ex-Commissioner Shares Details
The claims by Wole Soyinka regarding Peter Obi's loss in the 2023 presidential poll have been backed by a former commissionerHe noted that the tribunal's judges interpreted the constitution and Bola Tinubu was declared the winner of the presidential election because he scored the majority of the lawful votes castDr. Remi Olatubora(SAN) claimed Soyinka has stated the truth of the matter, Obi did not win the majority of votes lawfully cast
A former commissioner for education in Ondo state, Dr. Remi Olatubora (SAN), said Peter Obi, the Labour Party flagbearer in the 2023 presidential election, won the poll on social media and public domain.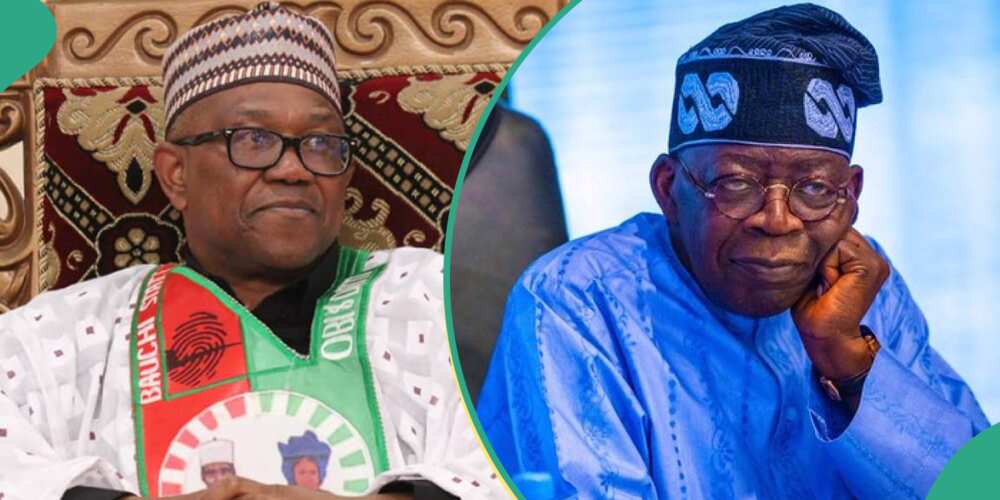 Dr. Remi Olatubora has claimed Peter Obi did not win the 2023 presidential election.
Photo credit: Mr. Peter Obi, Asiwaju Bola Ahmed TinubuSource: Facebook
Recall that Nobel laureate, Wole Soyinka, on Saturday, September 16, stated LP's leadership knew that Obi lost the February 25 election but are trying to force "a lie" on Nigerians, especially youths, that Obi won the election.
Reacting, Dr. Olatubora hailed the judgement of the Presidential Election Petition Tribunal (PEPT) and noted that "Soyinka stated the truth of the matter; even though he is not a lawyer".
Speaking with The Punch, he said,
"Wole Soyinka has stated the truth of the matter; even though he is not a lawyer, Soyinka should be known as a man who is never flippant with any opinion that he offers in the public space. And I am so sure before he offered that opinion, he must have sat down some lawyers who are conversant with the case, and would have heard from them.
"But the truth of the matter is that the petition filed by Peter Obi and other parties are in the public domain. We have all read all these documents.
If you take Peter Obi's petition on its merit, there is no pleading that supports the claim that Peter Obi won the majority of votes lawful cast, no complaint was made against the scores that were attributed to Atiku, so how is he going to overtake Atiku who beat him with over 1 million votes to emerge as a winner of an election, even if you take the votes of Asiwaju out of it. I think we can say that Peter Obi won the election on social media but lost at the polls."
Atiku vows to seek justice beyond Supreme Court
Atiku Abubakar, the flagbearer of the Peoples Democratic Party (PDP) in the February 25 presidential election, has vowed to seek justice beyond the judgment of the Supreme Court while calling for the defence of democracy in Nigeria.
In a tweet on Monday, September 18, the former vice president accused the ruling All Progressives Congress (APC) of harassing and arresting opposition members to turn the country into a one-party system.
"I saw house arrest": Prophet David Elijah releases prophecy on Peter Obi
Pastor David Elijah, the spiritual leader of the Glorious Mount of Possibility Church, has prophesied that Peter Obi would be arrested by authorities on trumped-up charges.
Prophet Elijah, in a recent message via his official YouTube page, Possibility TV, asked Nigerians to pray for the presidential hopeful.
He said God revealed to him that Obi, the presidential candidate of the Labour Party (LP) in the February 2023 general election, would be kept as a prisoner in his own house.
Source: AmbaJay